Innovation by: Peter M. Mithamo (school of engineering, energy and the built environment)
Introduction
The solar drying system utilizes solar, energy to heat up air and to dry any food substance loaded, which is not only beneficial in that it reduces wastage of agricultural produce and helps in preservation of agricultural produce, but it also makes transportation of such dried produce easy and promotes the health and welfare of the people.
Operation
This project presents the design and construction of a solar domestic food dryer. Thermal energy is absorbed by the opaque glass beneath. The top clear glass prevents the heat loss hence maintaining the required temperature within the food chamber. Perishable materials are dried that is (removing the moisture content from the food substance or agricultural produce loaded). Locally available materials have been used for the construction, chiefly comprising of compressed timber and a glass. A 12 volt DC fan (solar powered) has been incorporated to allow heat generated is uniform within the drying chamber. The system has been tested with great efficiency.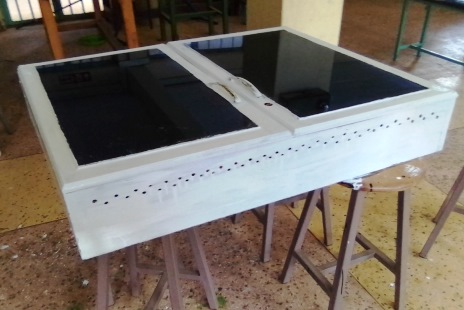 Benefits
Besides permitting better preservation, the drying of food products offers other
advantages such as:
Expanding the processing of large quantities of the product, thus avoiding loss of produce in times of abundant harvest.
Permitting year-round consumption of the produce facilitating its storage and transport
Providing greater nutritive value due to the fact that, as a great part of the water content is removed; the carbohydrates, pectin, proteins, oils, and mineral salts are concentrated in the tissues of dried food products.
Creating new opportunities for the food producer and generating new sources of work and income.
Ability in drying tuber like; arrow roots, cassava, sweet potatoes among others.
Ability in drying cereals like; maize, beans, green grams, sorghum among others.
Constant temperatures between 40- 60 degrees necessary for drying the food produce.